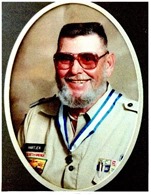 Richard Jerome Hartjen, 88, passed away at Loma Linda University Hospital in Loma Linda, California on Thursday, April 4, 2019. Richard was born on November 15, 1930 to Nelvin and Lila Marie Hartjen in Fairmont, Minnesota, and was the third oldest of 11 brothers and sisters. Richard was preceded in death by his wife of 60 years, Orva Joyce Hartjen.

Richard joined the U.S. Army on November 24, 1948, where he served until 1964. He then joined the California National Guard until his retirement from military service in June of 1981. During his military service he served with distinction during several deployments in Korea, Germany and combat advisor. Richard and his family arrived in Barstow in October 1962, where he served at Fort Irwin, California until his retirement.
In 1965, Richard began his 52-year commitment to the Boy Scouts. Starting with Troop 169 at Shepherd of the Desert Lutheran Church as a committee member. Over the years he served in several different positions. He was the founding Advisor of the first Coed-Explorer Post 166. He earned his first nickname, Coach, mentoring youth, ages 14 to 21, through many camping trips and many other activities. He served in various leadership positions within the Arrowhead Area Council and California Inland Empire Council in the former Mojave District and High Desert District. Later he served at Cub Scout Camp Wiley as Shooting Sports Director for Camp Helendade for 10 years, this is where he earned his other nickname of "Pops". Richards philosophy about his scout service was "If I can help our youth have fun in scouting and not in trouble, I have made a difference." For his years of commitment to Scouting, he was awarded the Silver Beaver Award.

He served as President of the Hinkley Senior Center for 3 years, as well as a board member and volunteer for 9 years. Over the years he volunteered with several organizations such as San Bernardino County Sheriffs Mounted Posse and Search and Rescue, Equestrian Trails Inc. where was a life member and the NRA as a Shooting Sports Instructor.
Richard is survived by his two sons, Richard Jr and wife Susan, Kevin and his wife Dorothy; grandchildren Amanda Dennis (Herb), Jaydee Billbe, Adam Hartjen (Donna), Abigail Hartjen, Larry Wakehouse (Sarah), Tony Mundy (Jeannie); 14 great grandchildren and 1 great-great grandson; and numerous nieces and nephews; and 7 brothers and sisters.
Memorial services for Richard Hartjen will be held at 10:30 am, Saturday June 8, 2019 at Shepherd of the Desert Lutheran Church 1301 E. Mountain View Barstow, California 92311.
Reception to follow at 1:00pm hosted by the Hinkley Senior/Community Center; located at 35997 Mountain View Rd. Hinkley, California 92347.
Interment will be at a later date in Riverside National Cemetery, Riverside, California.
The family requests in lieu of flowers, donations may be made to the Boy Scouts and Youth Ministries of the church.