50th Anniversary CSP Design Contest
---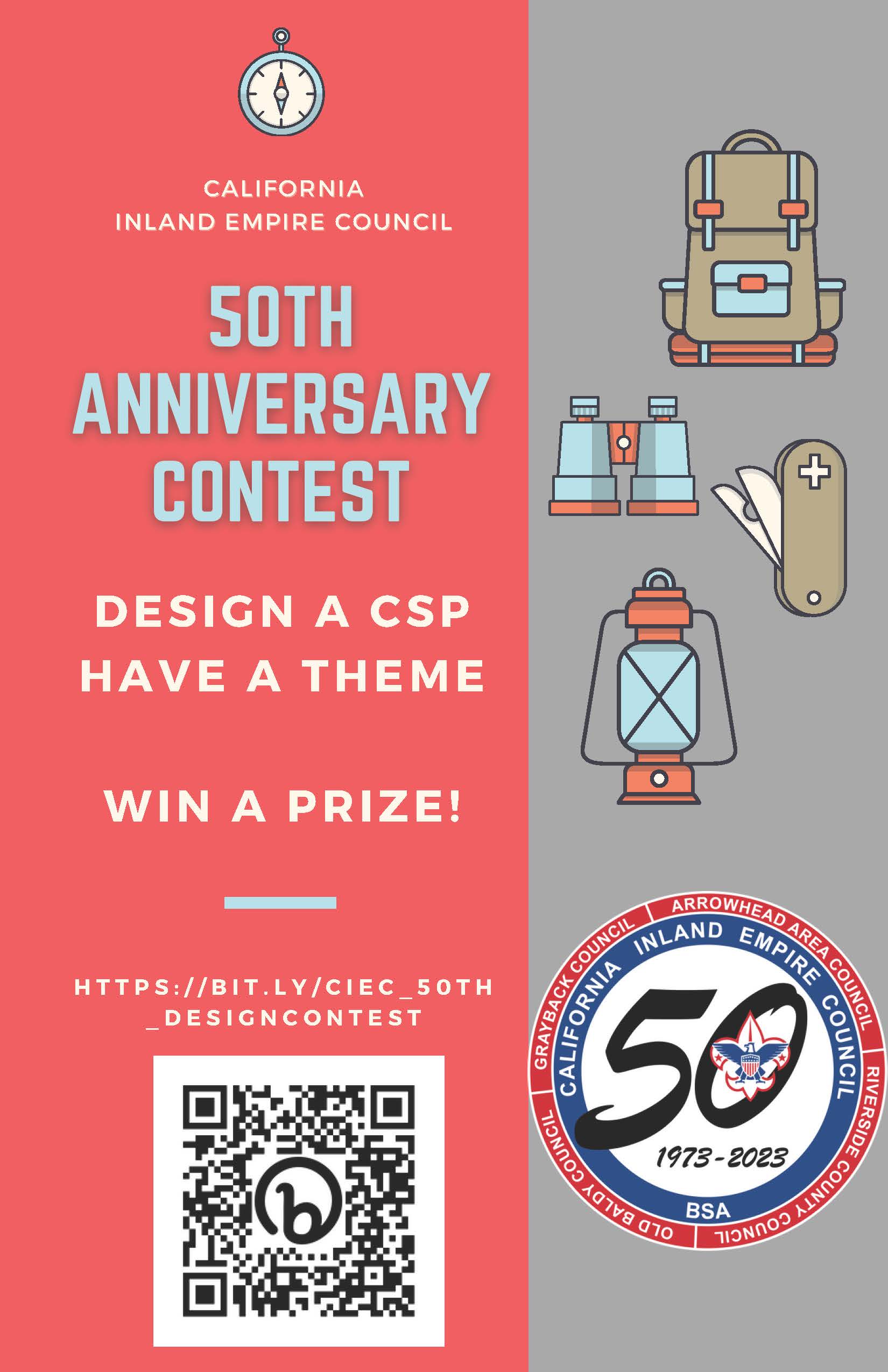 The California Inland Empire Council will be celebrating its 50th anniversary in 2023! Key parts of that celebration will be a special new council shoulder patch and a theme for the anniversary year- and one of YOU is going to create them. The contest starts NOW, closes November 13, 2022 and is open to anyone - youth or adult. You can enter one or both of the contests. Come up with a catchy theme or a CSP design, or both. The winners will be recognized throughout the year and will receive some special 50th anniversary swag to go along with bragging rights. The winners will also be a special guest at the Council recognition dinner in February where we intend to unveil the winning entries. Scouts are creative and resourceful. Let's see what you've got.
---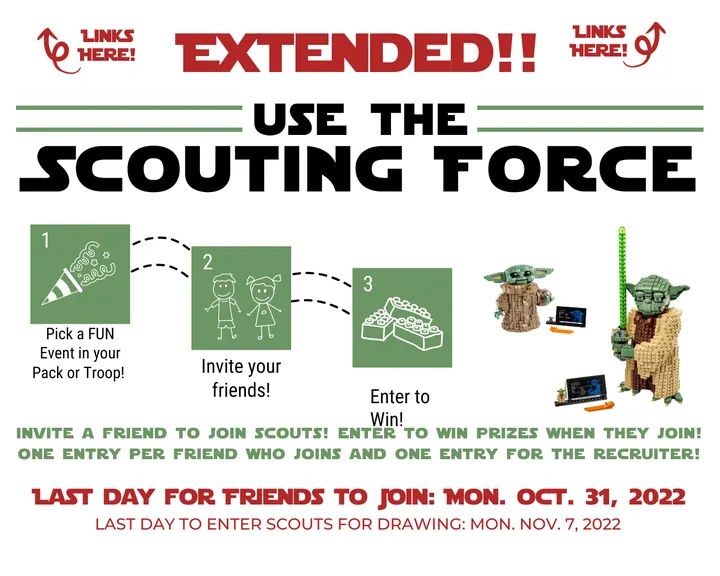 ---
Breaking News: Use the Scouting Force Incentive is being extended until Monday, October 31, 2022!
NEW SCOUTS must have their applications submitted by October 31. Adults have until Monday, November 7 to enter Recruiters and New Scouts in the Incentive Drawing: https://forms.gle/8gphwLGuvftbLc6JA
ANY SCOUT who recruited a friend between August 15 and October 31, 2022 may be entered in the drawing AND the NEW SCOUT they recruited! If your Scout recruited a friend and you do not know for sure if it was in that window? Go ahead and enter them into the drawing! Our membership team will verify all entries, so go ahead and enter them - we'll figure it out!
For a handy dandy tool to help Scouts invite friends to join Scouts, and for more information about the incentive, CLICK HERE: https://drive.google.com/file/d/17LqbcfjP41fsPKmS_pfTNoz6A-2rB4mL/view?usp=sharing
Have questions: Email MembershipCIEC@gmail.com
---
Heavy Metal Weekend Registration
---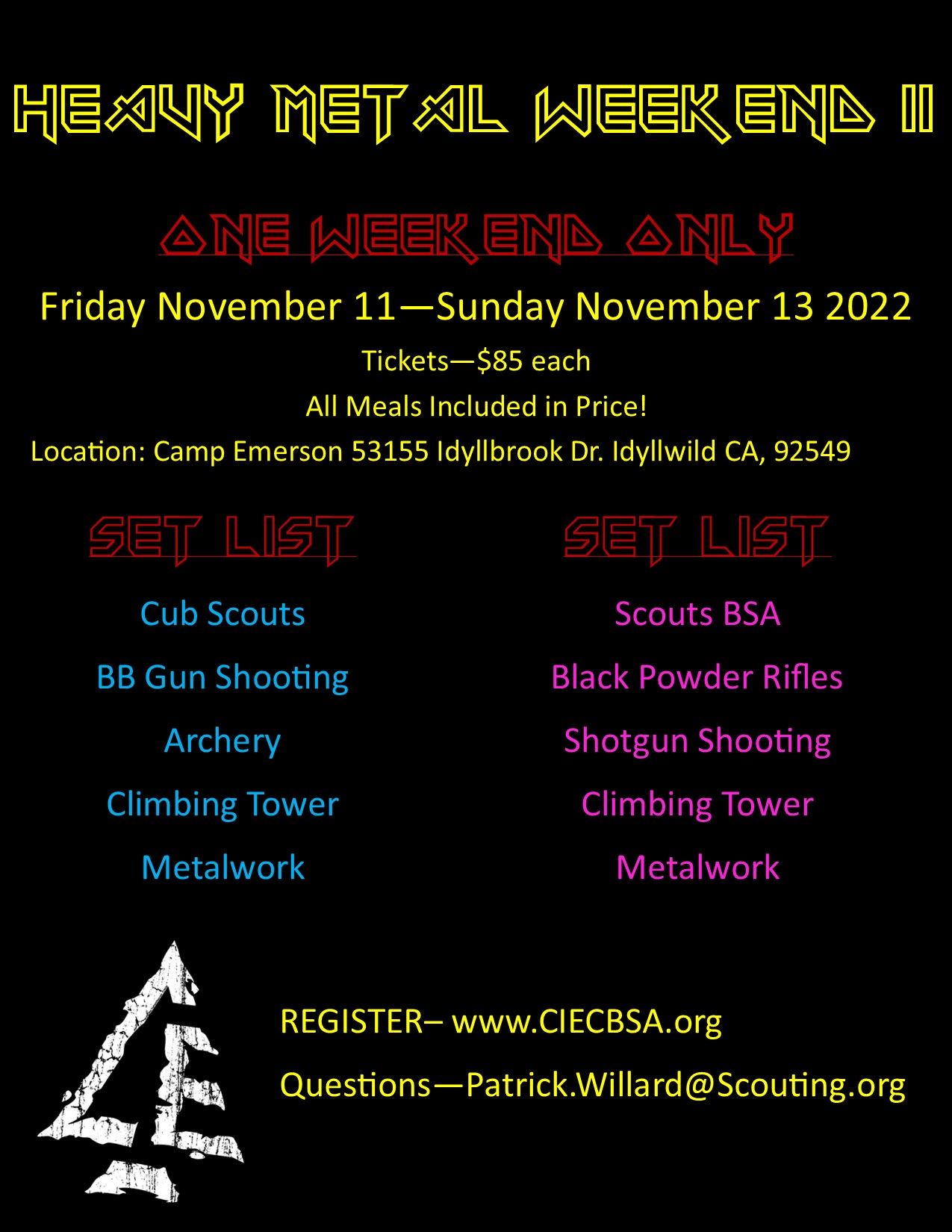 ---
2023 Jamboree Update
---

To: All Parents Currently Registered for the CIEC 2023 National Jamboree Contingent
All Parents Interested in Joining the CIEC 2023 National Jamboree Contingent
Any Concerned and Interested Leaders with Potential National Jamboree Attendees
From: CIEC 2023 National Jamboree Committee Co-Chairs,
Scoutmaster Ken Foutz & Council Commissioner John Vineyard
Dear Parents & Adult Participants,
Due to unforeseen circumstances with regard to the associated costs for the National Jamboree and related travel, unfortunately, the total cost of sending our youth to this once in a lifetime opportunity must be increased. Effective immediately, we will be charging $2,750 for all attendees who have signed up and joined our contingent before October 31st, 2022. The cost for any attendee joining our contingent after October 31st, 2022 will be $3,150.
If you are no longer able to send your child(ren) or you unable to attend yourself, due to the price increase, please contact our council office immediately. Refund requests are available by contacting the council office before the close of business on October 28th, 2022. If we do not hear from you by that time, then we will be required to keep your reservation along with any payments that have been submitted toward your reservation. The cost for our contingent to attend the National Jamboree is still the lowest in Southern California.
We sincerely apologize for the inconvenience that this may cause you. We could not predict this scenario when we originally set the cost of this event, which was published online in the late months of 2021. Rising costs of fuel, food, and supply issues have not leveled back to those rates. We also could not predict that the National Jamboree would require each council to purchase its own tents for the event.
Payment installments can be adjusted to fit each family's need, but the total amount must be paid in full by May 1st, 2023. We have extended the paid in full requirement by one month due to this change. If you do not let us know that this price adjustment is an issue for your family then your reservation & fees will stay intact at the new cost. We will do our best to reach out to all of our registered attendees by phone, but we invite you to let us know your intent as soon as possible.
Yours in Scouting,
Ken Foutz John Vineyard
CIEC Jamboree Co-Chair CIEC Jamboree Co-Chair
Please visit our new location:
Service Center & Scout Shop
2351 W Lugonia Ave Ste F
Redlands, CA 92374
(909) 793-2463
www.ciecbsa.org

---
SILVER BEAVER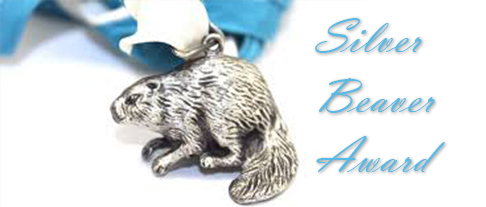 ---
It is once again time to nominate those selfless volunteers in our great Council that have made a significant impact in our service to youth! The Silver Beaver Award was introduced in 1931 and is a Council level distinguished service award of the Boy Scouts of America. Recipients of this award are registered Scouters who have given service to youth at the Council level, not in a unit or the district. Please make sure to fill out the form completely, do research on your nominee and fill in all the blanks. Remember to forward to your District Chair for review and signature. Applications that are not approved by District Chairs will not be accepted.
This nomination form must be sent to the CIEC office by November 28th, 2022. Late forms will not be accepted for evaluation. Do not attach any additional statements or letters of recommendation to this form. Forms can be submitted electronically to beverly.gruendner@scouting.org
---
Board Nominations
---
The 2023 Nominating Committee Chair is Matt Flanagan
Any recommendations for prospective Executive Board Members should be forwarded to:
California Inland Empire Council- Nominating Committee
Attn: Nominating Committee, Beverly Gruendner
2351 W. Lugonia Ave, Suite F
Redlands, CA 92374
Or Email: beverly.gruendner@scouting.org
Suggested nominees from registered local council Scouters are considered if they are received in writing no less than 30 days prior to the Annual Business Meeting-December 19, 2022. Those who offer names to the nominating committee should supply some background information but should not have secured the permission of the person to be nominated and to serve if elected.
The Annual Meeting will be on Thursday, January 19, 2023, at 6:00pm.
---
Check out the 2023 CIEC Program Guide
---