INTERNET RECHARTERING OPEN
---
---
SILVER BEAVER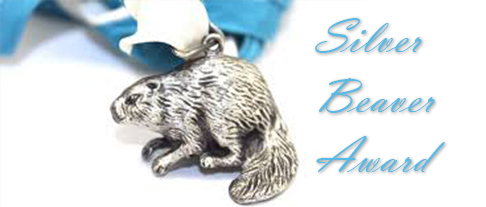 ---
It is once again time to nominate those selfless volunteers in our great Council that have made a significant impact in our service to youth! The Silver Beaver Award was introduced in 1931 and is a Council level distinguished service award of the Boy Scouts of America. Recipients of this award are registered Scouters who have given service to youth at the Council level, not in a unit or the district. Please make sure to fill out the form completely, do research on your nominee and fill in all the blanks. Remember to forward to your District Chair for review and signature. Applications that are not approved by District Chairs will not be accepted.
This nomination form must be sent to the CIEC office by November 28th, 2022. Late forms will not be accepted for evaluation. Do not attach any additional statements or letters of recommendation to this form. Forms can be submitted electronically to beverly.gruendner@scouting.org
---
Heavy Metal Weekend Registration
---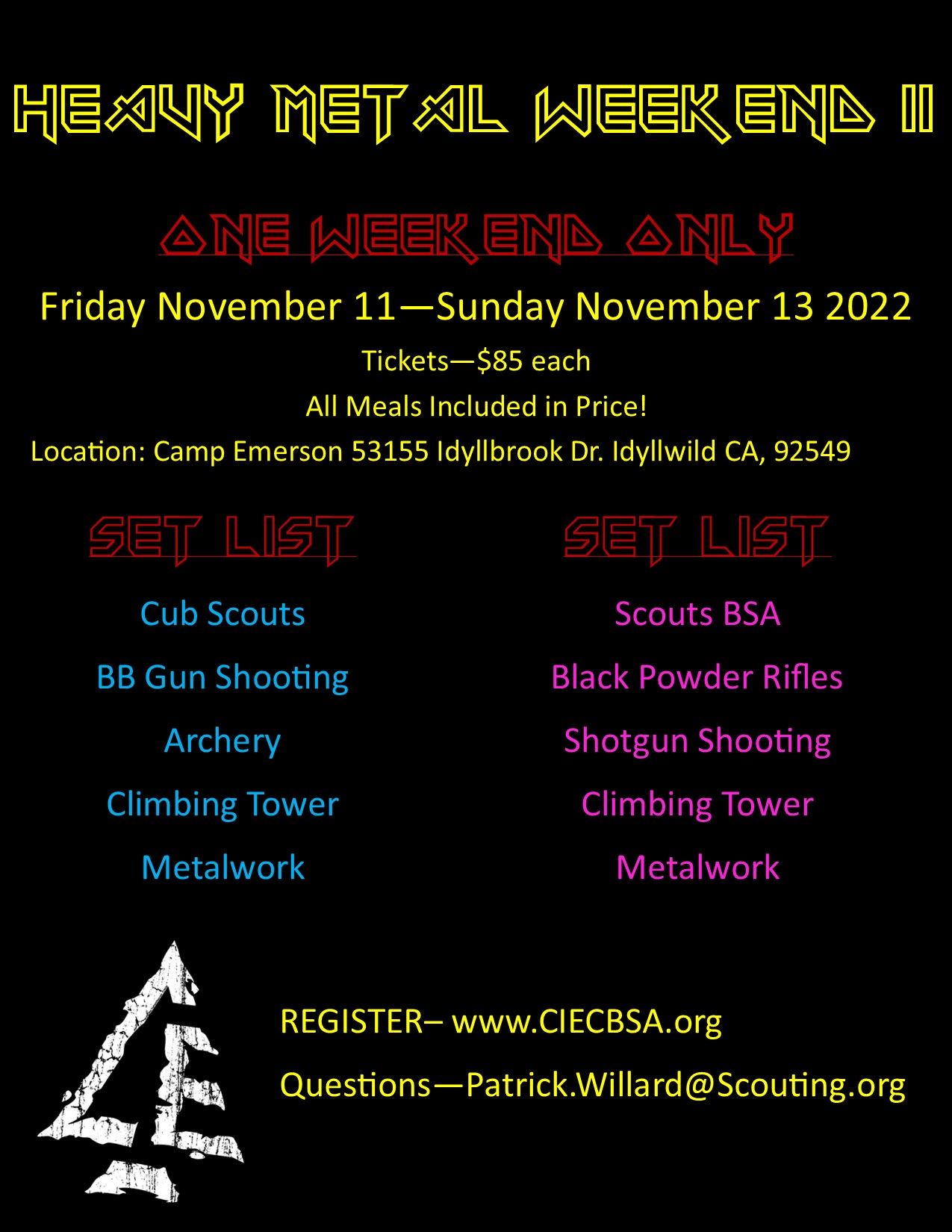 ---
| | |
| --- | --- |
| | POPCORN PICK UP! |
---
1: Pick up of Take Orders will be as follows:
Monday October 24th through Friday October 28th from 9:00 am to 4:00 pm
By appointment only - Thursday October 27th 4:00 to 7:00 pm and Saturday, October 29th 11:00am to 1:00pm
You must email ciecpopcorn@scouting.org to make an appointment to pick up on Thursday and Saturday.
2: Attached is the 2022 High Achiever and VIP form. Please email completed forms to ciecpopcorn@scouting.org by Nov 1st!
3: All payments are due! Please log into your CampMasters account and send in a check for your balance.
4: VERY IMPORTANT – Beverly will be out of the office from this Wednesday, October 19th until Tuesday November 8th! She will not have access to email or phone. If you need assistance, please reach out to your District Kernel, District Executive, the Assistant Council Kernel Brian Galleano, or you can email ciecpopcorn@scouting.org! For popcorn payments, the office staff can take your check.
---
National Public Lands Day
---
The Cahuilla Lodge #127 along with the Bureau of Land Management is proud to announce the 2022 annual service project.
This service project will be at the southeastern corner of Sheephole Valley Wilderness. The event will improve naturalness within and adjacent to the Sheephole Valley Wilderness.
We will be cleaning debris, improving camping areas, installing fences and assisting with restoration. There are multiple sites with projects available for Cub Scouts, Boy Scouts, Venturing Crews, and Sea Scouts.
See the flyer for more information.
Flyer - http://snakepower.org/events/2022%20Mojave%20Trails%20National%20Monument%20Service.pdf
Registration - http://snakepower.org/signups/mojave22.asp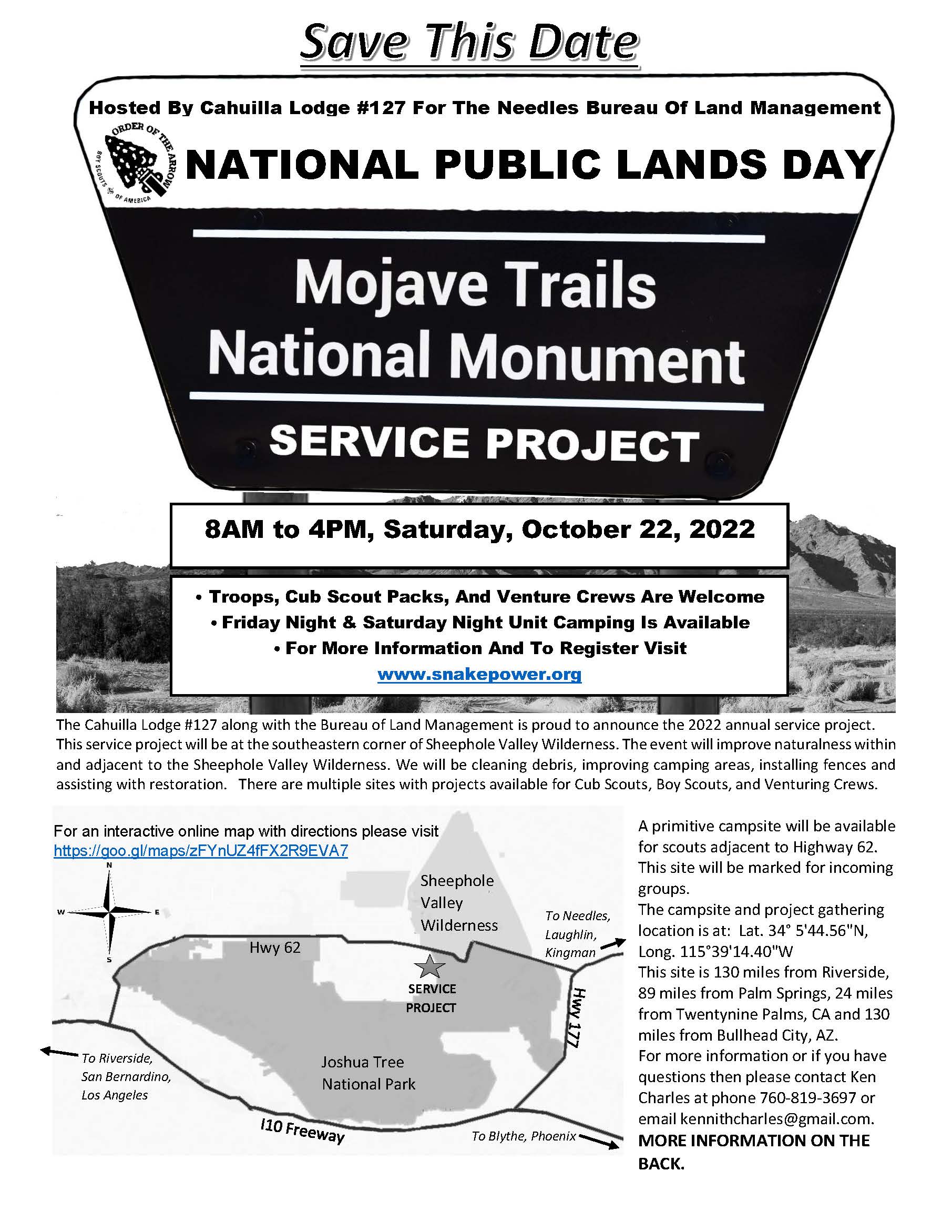 ---
Check out the 2023 CIEC Program Guide
---

---
2023 Jamboree Update
---

To: All Parents Currently Registered for the CIEC 2023 National Jamboree Contingent
All Parents Interested in Joining the CIEC 2023 National Jamboree Contingent
Any Concerned and Interested Leaders with Potential National Jamboree Attendees
From: CIEC 2023 National Jamboree Committee Co-Chairs,
Scoutmaster Ken Foutz & Council Commissioner John Vineyard
Dear Parents & Adult Participants,
Due to unforeseen circumstances with regard to the associated costs for the National Jamboree and related travel, unfortunately, the total cost of sending our youth to this once in a lifetime opportunity must be increased. Effective immediately, we will be charging $2,750 for all attendees who have signed up and joined our contingent before October 31st, 2022. The cost for any attendee joining our contingent after October 31st, 2022 will be $3,150.
If you are no longer able to send your child(ren) or you unable to attend yourself, due to the price increase, please contact our council office immediately. Refund requests are available by contacting the council office before the close of business on October 28th, 2022. If we do not hear from you by that time, then we will be required to keep your reservation along with any payments that have been submitted toward your reservation. The cost for our contingent to attend the National Jamboree is still the lowest in Southern California.
We sincerely apologize for the inconvenience that this may cause you. We could not predict this scenario when we originally set the cost of this event, which was published online in the late months of 2021. Rising costs of fuel, food, and supply issues have not leveled back to those rates. We also could not predict that the National Jamboree would require each council to purchase its own tents for the event.
Payment installments can be adjusted to fit each family's need, but the total amount must be paid in full by May 1st, 2023. We have extended the paid in full requirement by one month due to this change. If you do not let us know that this price adjustment is an issue for your family then your reservation & fees will stay intact at the new cost. We will do our best to reach out to all of our registered attendees by phone, but we invite you to let us know your intent as soon as possible.
Yours in Scouting,
Ken Foutz John Vineyard
CIEC Jamboree Co-Chair CIEC Jamboree Co-Chair
Please visit our new location:
Service Center & Scout Shop
2351 W Lugonia Ave Ste F
Redlands, CA 92374
(909) 793-2463
www.ciecbsa.org

---
The 2023 Nominating Committee chair is Matt Flanagan
Any recommendations for prospective Executive Board Members should be forwarded to:
California Inland Empire Council- Nominating Committee
Attn: Nominating Committee, Beverly Gruendner
2351 W. Lugonia Ave, Suite F
Redlands, CA 92374
Or Email: beverly.gruendner@scouting.org
Suggested nominees from registered local council Scouters are considered if they are received in writing no less than 30 days prior to the Annual Business Meeting-December 19, 2022. Those who offer names to the nominating committee should supply some background information but should not have secured the permission of the person to be nominated and to serve if elected.
The Annual Meeting will be on Thursday, January 19, 2022, at 6:00pm.
SAFETY MOMENT - Diabetes
SUMMARY
Very likely, someone in your unit has diabetes—a medical condition that disrupts the body's ability to control blood sugar. Potentially life-threatening problems may occur if and when their blood sugar gets too high or too low.
GENERAL INFORMATION
Diabetes is categorized as either Type 1 or Type 2. Most people with Type 1 diabetes are diagnosed in childhood, and almost all need insulin shots to manage their blood sugar.
Type 2 diabetes, in which the body has lost sensitivity to insulin, is more common in adults but is increasing in youth. With Type 2 diabetes, the loss of sensitivity to insulin causes a high blood sugar level; the condition is often controlled by oral medication and a monitored diet, though insulin shots are sometimes necessary.
People with diabetes check their blood sugar levels using a glucometer. They should always carry a glucometer and glucose tablets or food that can quickly treat low blood sugar. Some people with diabetes may have an insulin pump, a small, typically pocket-sized computerized device that will deliver insulin through a small tube placed under the skin. People with diabetes who have insulin pumps are typically well trained and should know how to manage both the device and their diabetes.
People with diabetes should always be identified to adult unit leaders and to selected youth members who will act as a buddy. The buddy should know the symptoms of low and high blood sugar and be willing to act promptly and notify an adult if these symptoms are observed.
Low and High Blood Sugar
Strenuous exercise can decrease the blood sugar in all of us, and this is especially true for people with diabetes, for whom low blood sugar, or hypoglycemia, can occur suddenly. Symptoms of low blood sugar may include:
Sweating

Rapid heartbeat

Weakness

Confusion

Unconsciousness

Seizures
The first aid for low blood sugar is sugar. Give some form of sugar orally if the person is conscious. Liquids—juices or gels— are often the easiest to obtain and administer. If there is no improvement within 15 minutes, seek immediate medical care. Remember that oral treatment should never be attempted if the victim is unconscious because choking could result.
Elevated blood sugar that stays too high for too long— hyperglycemia—can lead to diabetic ketoacidosis (DKA). Although DKA usually develops slowly, this medical emergency requires immediate hospitalization. Symptoms of high blood sugar may include:
Sleepiness

Lack of energy

Thirst

Frequent urination

Heavy breathing

Loss of consciousness
First aid for someone suffering from a high blood sugar level is to administer sugar-free fluids and to immediately transport them to medical care.
Tips for Leaders
Develop a diabetic action plan with the individual and their parents before a Scouting event occurs.

Know symptoms of low and high blood sugar levels, how to use a glucometer, and when to get medical help.

Make sure that the Annual Health and Medical Record includes the most current information.

Plan for each person with diabetes to be paired with a knowledgeable buddy to help if symptoms arise.

Encourage people with diabetes to check blood sugar as recommended by their doctor and if and when symptoms occur.

Make sure you have adequate medication and supplies for the entire event before leaving.