---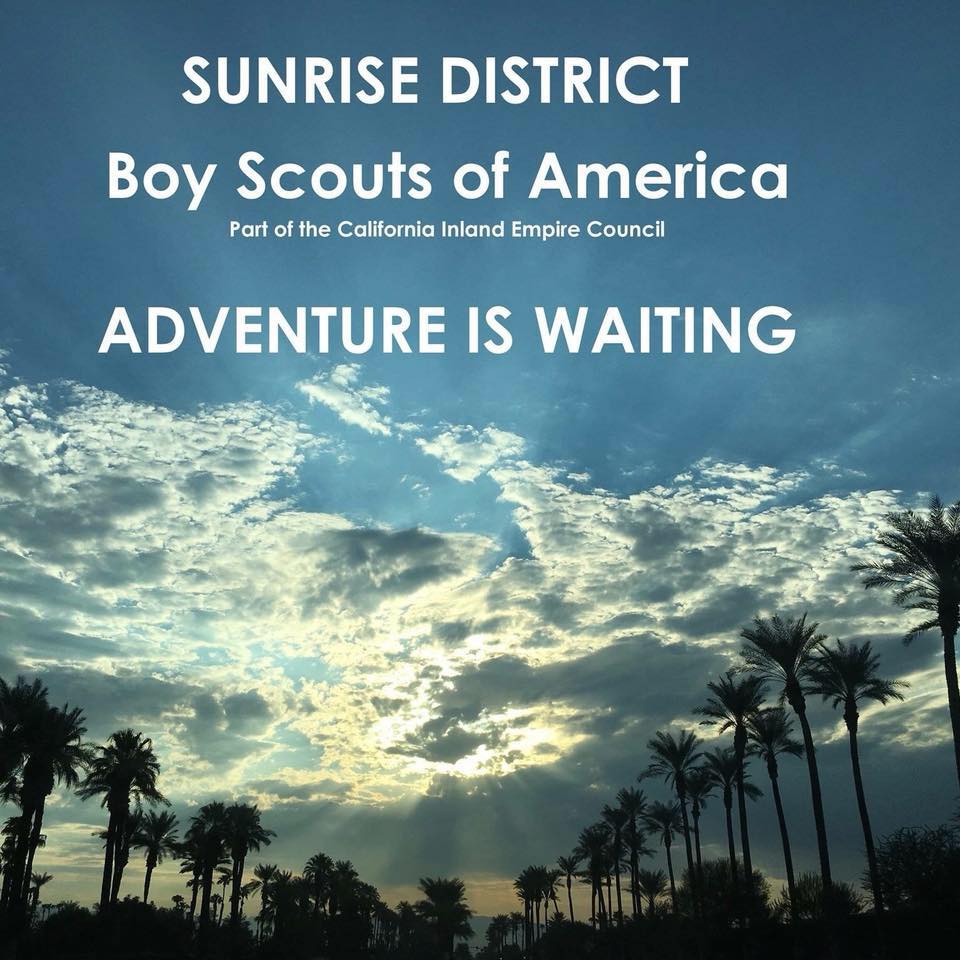 The Sunrise Five - 10/23/2020
1. Did You Know About the CARES Act?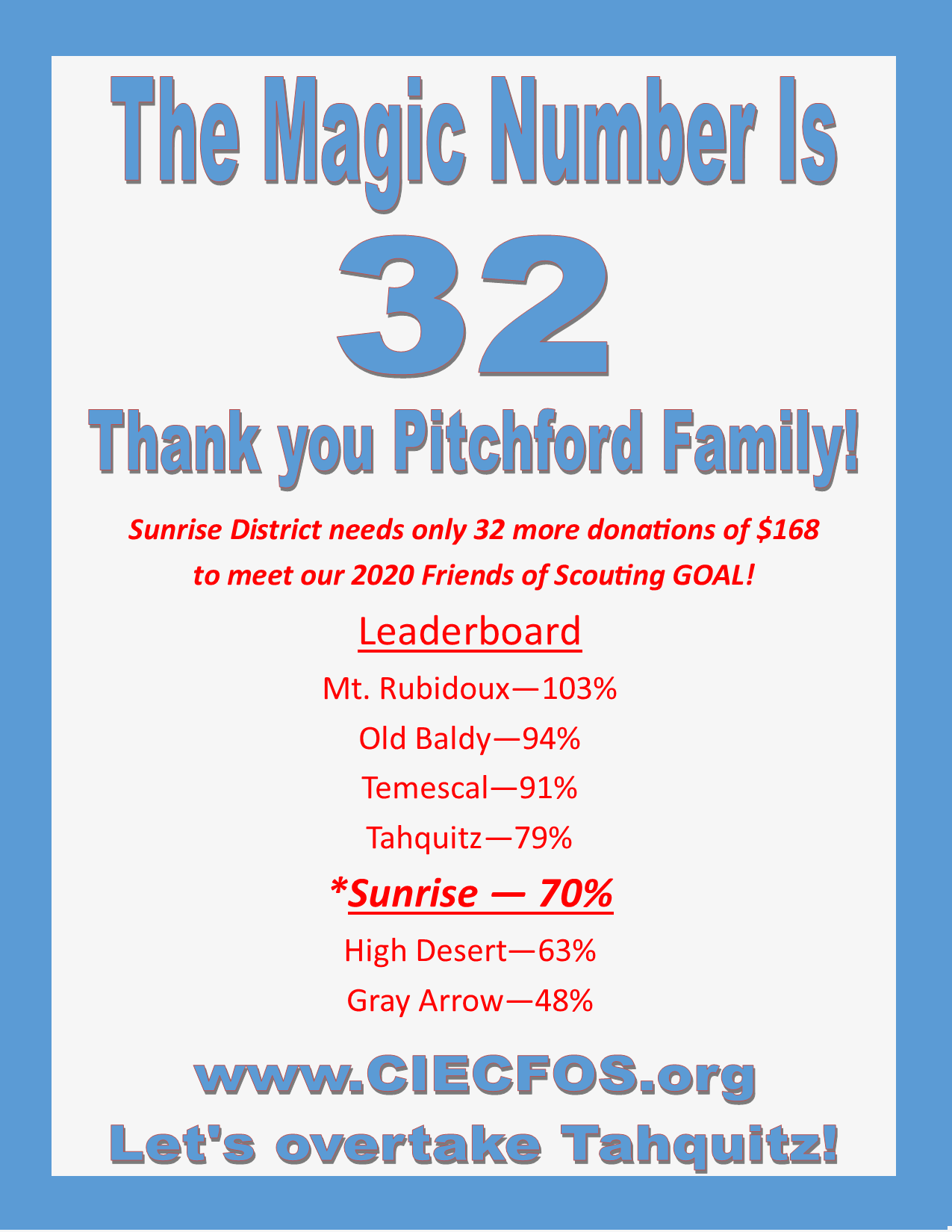 We started "The number is…" journey on September 3, 2020 with the number of 40. We are now 32 donations at $168 each from reaching our Sunrise District Family Friends of Scouting goal. Thank you everyone who has made a donation to help the district reach its goal.
Did you know… Under the 2020 CARES Act, Section 2205, there is a charitable giving incentive?
Individuals who do not itemize deductions can deduct up to $300 per taxpayer in annual cash charitable contributions as a new above-the-line deduction. This deduction is allowed in addition to the standard deduction allowable to those taxpayers.
Individuals who itemize deductions on their personal income tax return can deduct qualified cash charitable donations limited to 100% of their adjusted gross income (AGI).
The California Inland Empire Council is a qualified 501(c)(3) tax-exempt organization and Friends of Scouting donations are qualified charitable donations.
If you have not had a chance to make a gift, would you consider making a donation at any level? If you've already given, would you consider an additional gift to help us reach our goal? Please visit www.ciecfos.org. All donations stay within the California Inland Empire Council and support our local Scouts and programs.
Yours in Scouting,
Jordan McCandless
2. Rechartering Has Begun!

The online recharter system is open for you to complete your unit's 2021 recharter. Recharter codes and packets have been sent to your Scoutmasters, Cubmaster, Committee Chair, and Charter Representative. Recharters are due by Monday, November 30th.
CLICK HERE to visit the online recharter website and get started.
If you would like to pick up a paper copy of your recharter materials or have questions, please contact jordan.mccandless@scouting.org or our District Commissioner, Joe Riordan. You can also contact our registrar if you have any questions about the recharter process at cynthia.ruiz@scouting.org.
We'll have recharter turn-in nights in November to offer assistance if you need it and give you an opportunity to turn in your completed recharter packet.
3. Don't Forget to Check Your Leads!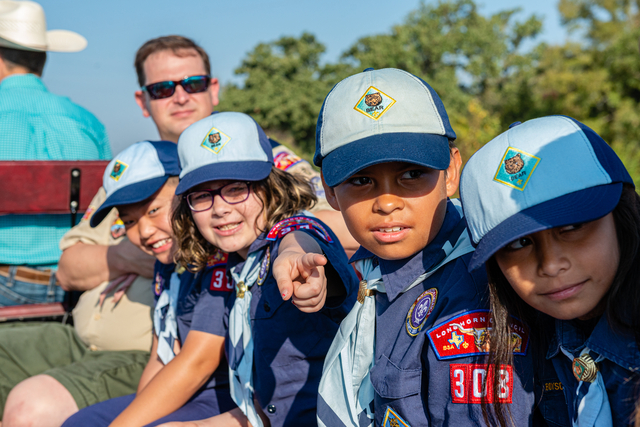 New leads are coming in from families who want to join YOUR unit. Don't forget to remind your Cubmaster, Scoutmaster, and Committee Chair to regularly review and respond to leads in My.Scouting.org using the "Invitation Manager" tool. Let's help every family experience the fun and adventure of Scouting! CLICK HERE for some helpful videos showing how to view and respond to leads using "Invitation Manager."
4. Panda on the 3rd!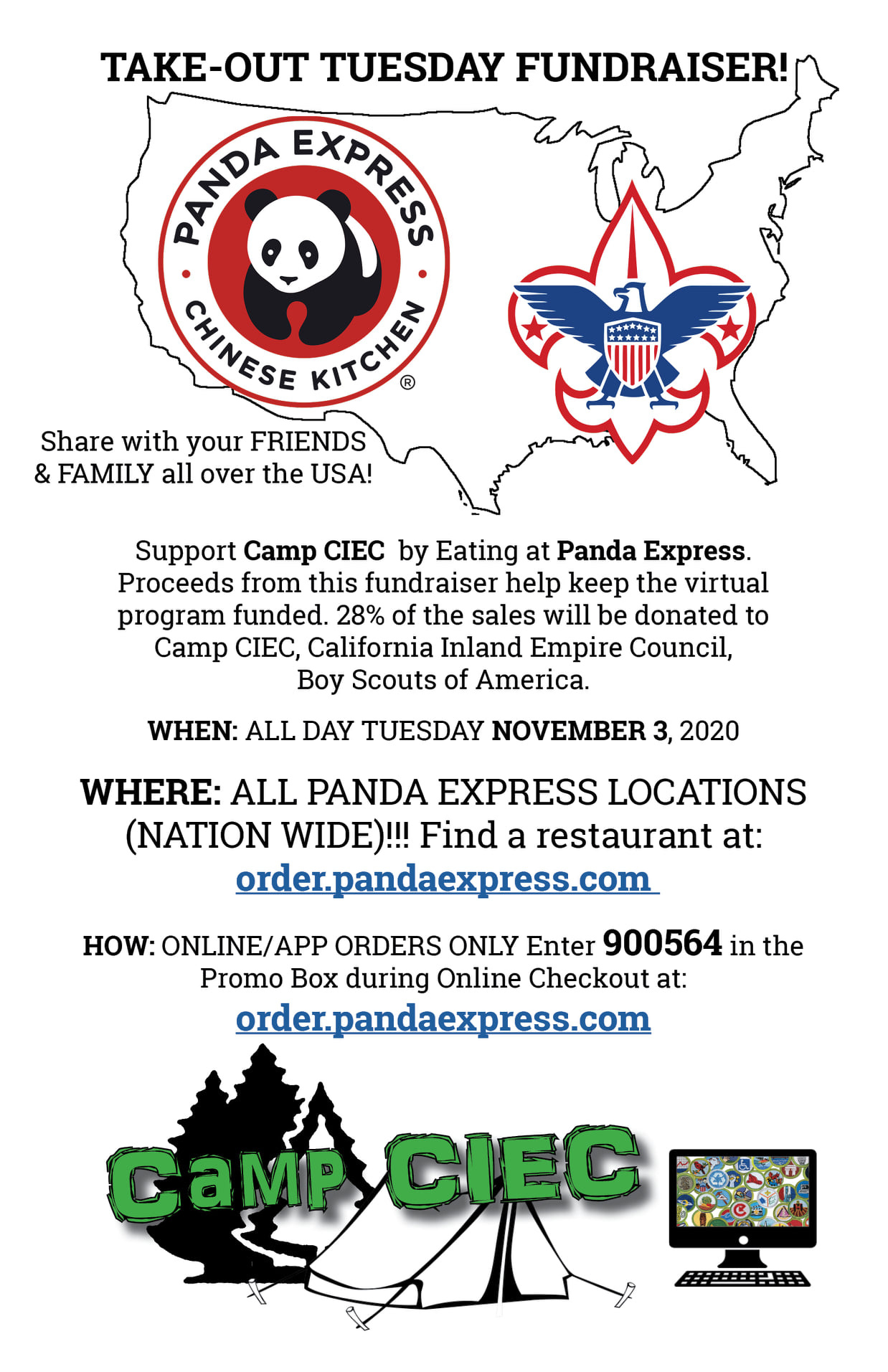 5. CALLING ALL CUB SCOUTS: Day Camp Patch Design Contest
Are you a Cub Scout? Do you think you have what it takes to design the 2021 Day Camp patch for the entire council? Enter the Day Camp Patch Design contest! If you design the winning patch, you can go to Day Camp for free in summer 2021! CLICK HERE to download the contest entry form!
BONUS: Peace Poster Contest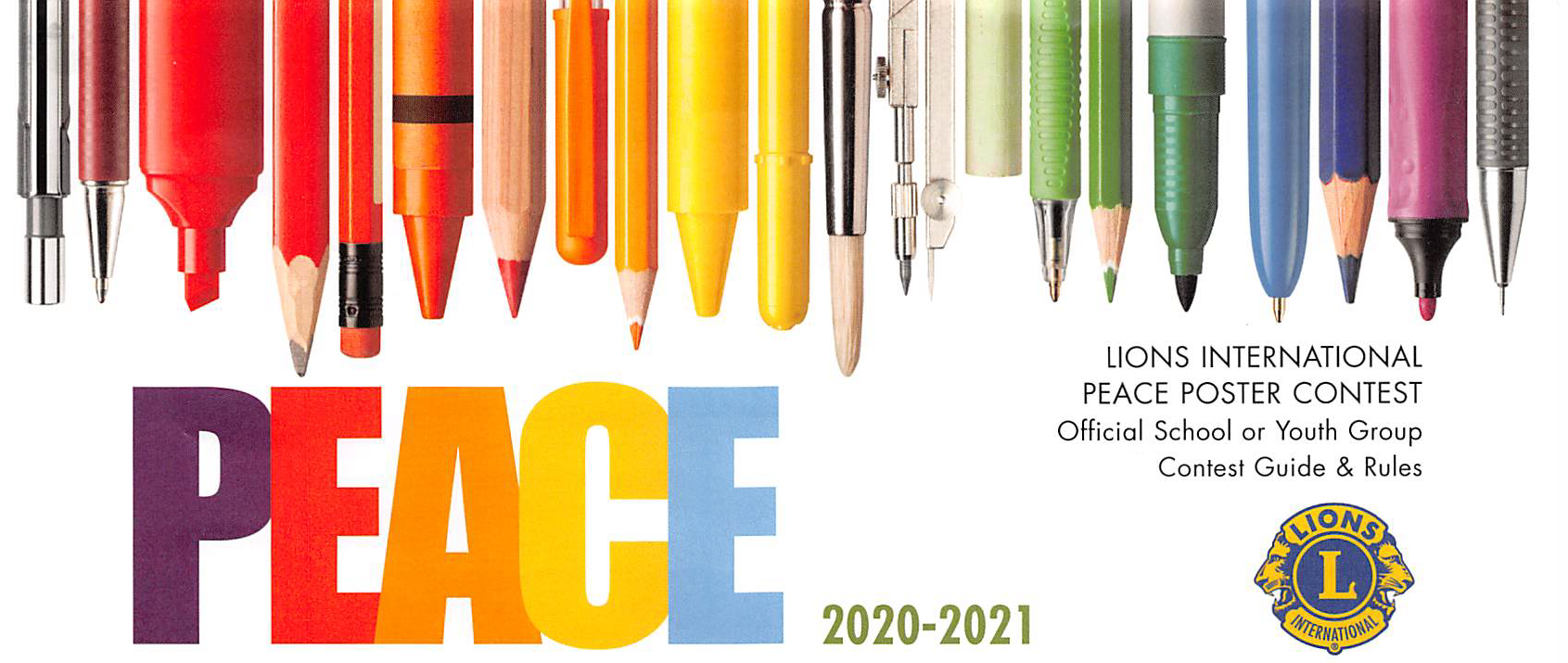 The Greater Palm Springs Lions Club is putting on a Peace Poster contest. This is a great opportunity for young Scouts to show off their creativity (participants must be between the ages of 11-13). Plus the club is awarding a prize of $50 to the first place poster and $25 to second and third place.
Entries are due by Oct. 31st. CLICK HERE to download the entry forms and rules (see pages 4-5). Entries can be mailed to:
Greater Palm Springs Lions Club
801 E Tahquitz Canyon Way, Ste 200
Palm Springs, CA 92262