---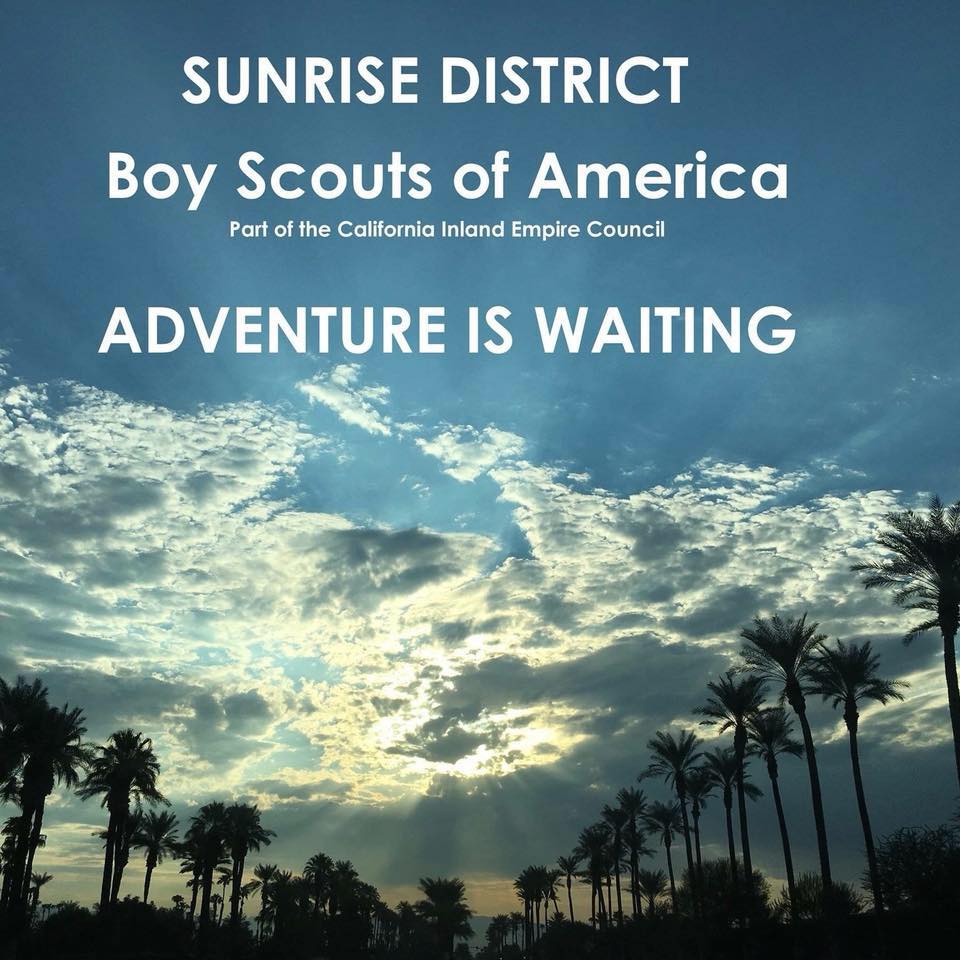 The Sunrise Five - 3/27/2020
1. Virtual Roundtable this week, Scout Shop at Roundtable next month!
Our Roundtable on Thursday, April 2nd will be virtual. Keep an eye on our Facebook page for a video of the Roundtable announcements, and click here to join us at 7PM on Thursday evening for a live breakout about some of the best ways to continue Scouting during the Coronavirus shutdowns.
May's Roundtable is scheduled to take place on May 7th at 7:00 PM at Northgate Community Church and we have exciting news: The Scout Shop will be there! You will be able to purchase a limited number of items at Roundtable, OR you can call ahead and place an order to be picked up at Roundtable. It's a great opportunity to pick up uniform items or program items like handbooks. Join us in May and don't miss it
2. Re-scheduled district programs:
Due to the evolving response to the Coronavirus, our district has had to cancel or postpone several events planned for April.
The district camporee with Old Baldy District that was originally planned for April 3rd - 5th has been rescheduled. The camporee will now take place at Camp Emerson on August 21st - 23rd.

The district pinewood derby that was originally scheduled for Saturday, April 18th will be rescheduled. We are in the process of selecting a new date.

The district merit badge day originally scheduled for Saturday, April 25th has been cancelled. We encourage Scouts to reach out to merit badge counselors via phone and video-conferencing to continue working on merit badges. We will do our best to provide resources to support this.
3. 30-Day Cub Scout Challenges:

Click above or check out our council homepage for a link to some excellent 30-Day Challenges for Cub Scouts! Are you up to it?
4. Stay Connected!
Stay connected with the district and council. We're doing our best to put together and share resources with you that can help keep your Scouts active and engaged during this unexpected time at home. Check our our council Facebook page, district Facebook page, and council website for some great ideas and resources. This newsletter will be updated weekly with the latest news and content to help you continue Scouting at home.
For all questions about anything going on in the Sunrise District, please email jordan.mccandless@scouting.org.
5. Oh, the Places You Can Go!

Looking to scratch that travel itch, even though you're stuck inside? TravelZoo has a list of 20 awesome places you can visit virtually, from the comfort of your couch. You can see inside The Louvre, the San Diego Zoo, the Taj Mahal, and many others. Wow!